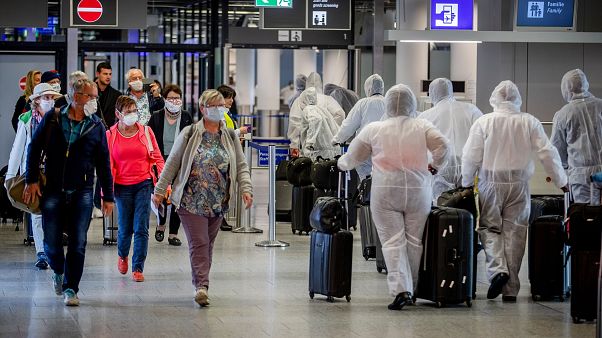 Some countries in Europe are set to ease lockdown measures this week, while others, such as the UK, continue in lockdown, with no plan made public for the easing of restrictions.
Europe's worst-affected countries, France, Spain and Italy, which have all seen more than 20,000 people die as a result of COVID-19, are registering falling numbers of sick and dead after weeks of rising numbers.
From today Germany will allow the reopening of smaller shops. With more than 135,000 recorded cases and about 4,000 deaths, the pandemic in Germany is "under control and manageable", Health Minister Jens Spahn said.
France has tentative plans to reopen schools on May 11, but officials warned any deconfinement would be gradual. "We are not out of the health crisis" but "the situation is gradually improving, slowly but surely," French Prime Minister Edouard Philippe said on Sunday.
In Spain, children will be able to go outside for fresh air from 27 April. They have been strictly confined since 14 March.
In Norway, where the authorities believe they have "brought the virus under control", nurseries will reopen on Monday and the ban on staying in second homes will be lifted. A second stage, from April 27, will see the partial reopening of secondary schools and universities.
The UK government, which has said it is too early to ease any restrictions, is scrambling to source PPE equipment for medical workers.
Meanwhile the world's most heavily impacted country, the US, saw its death toll pass 40,000 on Sunday, with 1,997 people registered as dying from COVID-19 in the last 24 hours.
According to the World Health Organisation (WHO), the pandemic is far from being contained at the global level.
Spain's GDP to contract between 6.6% and 13.6%: Bank of Spain
The Spanish central bank said on Monday that it expects Gross Domestic Product to contact by as much as 13.6% in 2020 due to the COVID-19 pandemic.
The International Monetary Fund forecast last week that growth is Europe's fourth)largest economy would shrink to -8% this year.
Spain records lowest daily death toll in four weeks
Spanish authorities have announced that 399 deaths from COVID-19 had been recorded over the past 24 hours, down from 410 registered on the previous day.
It is the country's lowest daily death toll in four weeks, the Health Ministry has said.
In total, 20,852 people have lost their lives to the virus in Spain and the country has also recorded more than 200,000 confirmed cases after a one-day rise of 4,266.
Germany taking cautious steps towards normality
Germany is among the first European nations taking cautious steps towards normality - small shops are allowed to start serving customers from today, but the government is "urgently" recommending that everyone wear face masks. Bars, restaurants, gyms and larger stores will remain closed for now.

Euronews spoke to Dr Timo Ulrichs, a microbiologist and infection epidemiologist at Akkon University for Human Sciences, who said that Germany "had more time to get prepared" than other nations that have been harder hit, such as Italy. He said the country was able to trace the spread of the virus and establish testing facilities. Watch the full interview here.
Tony Blair: Get ready for a "new normal"
The "normal" that we return to following the coronavirus outbreak witll be "a new normal", former UK Prime Minister Tony Blair has said, adding he is "terrified" of the long term economic and social damage that could be left.
In a post on his Tony Blair Institute for Global Change website, he writes that the UK was slow in its suppression stage, in comparison to others, and so must be ready for the "managed revival of the economy".
He then sets out ten of the "most obvious" tasks that should have a proper "command and control" structure, including PPE, mass testing, and vaccines.
French economy to take €120 billion loss - OFCE
The French Economic Observatory (OFCE) says the country's lockdown will result in a €120 billion loss for the economy.
The publicly funded research body said GDP over the lockdown period, which is currently set to last for eight weeks in total, will be reduced by 32% - corresponding to 5% GDP drop over the year.
"Nearly 60% of the fall in national income is absorbed by the general government" through the increase in the deficit, while "35% is accounted for by companies, which raises the question of the rebound after the containment episode", a study from the organisation stated.
Antibody testing ramped up
New York's governor has announced plans to test people throughout the state for COVID-19 antibodies.
Andrew Cuomo said on Sunday: "We are going to sample people in this state, thousands of people in this state, across the state to find out if they have the antibodies. That will tell us, for the first time, what percent of the population actually has had the coronavirus and is now at least short-term immune to the virus."
New York has been the epicentre of the US outbreak.
Meanwhile over the weekend Germany started carrying out Europe's first large-scale antibody testing. The research will involve blood donations in four regions of the country where there've been large outbreaks of the virus, as well as a representative study of the broader population.
Antibodies in the blood are an indication that someone has had the virus. The theory is that those people will have at least some level of immunity, although there is no guarantee of full immunity or how long it would last.
Russiaannounces another 44 deaths
Russia has announced its coronavirus figures for the last 24 hour period. The country reported 4,268 new cases, and 44 new deaths, taking the totals to 47,121 and 405 respectively.
Germany sees another 110 deaths
Europe's biggest economy saw 110 deaths in the last 24 hours, according to its federal agency for disease control.
The country is taking first cautious steps towards reopening today, with small shops opening up for business. The government has urged everybody to wear a face mask if going out.
For a full breakdown of where the infections and deaths have taken place in Germany, you can use the Robert Koch-Institut's COVID-19 digital
Conflict between Trump and state leaders
The verbal sparring between US President Donald Trump and state leaders ratcheted up a notch over the weekend as Trump increased pressure to lift confinement measures.
Washington state's Democratic governor, Jay Inslee, accused Trump of encouraging insubordination and illegal activity by goading protesters who flouted shelter-in-place rules.
Protesters worrying about their livelihoods and bucking infringements on their freedom took to the streets in some places.
Outbreak at Afghanistan's presidential palace
At least 20 employees at Afghanistan's presidential palace have tested positive for COVID-19, according to a senior government official who asked to remain anonymous because he was not authorized to comment on the subject.
It wasn't clear whether President Ashraf Ghani had been in contact with any of the employees or whether he had been tested himself. The presidential palace has refused to comment.
Ghani has reportedly been self-isolating, although he still meets daily with some senior officials. At 70 and a cancer survivor, Ghani is considered in the higher risk category.