Boris Johnson's plans for UK labelled vague and divisive; China records new cases in Wuhan and Shulan; New Zealand to move to level 2 restrictions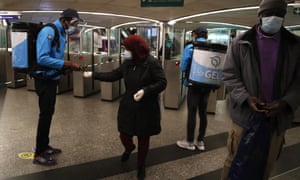 Kosovo's caretaker prime minister has said he is in self-isolation after an official in his government "had close contact" with someone who tested positive for coronavirus, according to AFP.
Albin Kurti made the announceent on his Facebook page, saying he would stay in his apartment until test results were available for the official from the Ministry of European Integration who had contact with the infected person.
"Today is the first day when I will not go to work at the Prime Minister's Office," the 44-year-old wrote.
With tight restrictions on movement and early moves to shut down public activities, Kosovo has so far prevented an widespread outbreak of Covid-19 among its population of 1.8 million.
According to government figures, 884 infections have been detected and 28 people have died from the disease.
Sunday's presidential election in Poland had a record low turnout of 0%, Shaun Walker, the Guardian's central and eastern Europe correspondent, reports.
The vote was not officially cancelled but polling stations stayed closed, leading to a strange ghost election after weeks of legal wrangling over whether or not it should go ahead.
The ruling Law and Justice (PiS) party, which has been accused of

rolling back democratic norms

in recent years, tried to hold the election despite the challenges of voting in times of Covid-19.
The PiS-allied incumbent, Andrzej Duda, was the firm favourite to win, and the opposition accused the government of

trying to push through the vote

now

to make it easier for him to win in the first round. Up until Wednesday evening, the government insisted a postal vote would go ahead.
In a televised address on Sunday night, Ghana's president, Nana Akufo-Addo, extended a ban on public gatherings until at least the end of the month, writes Emmanuel Akinwotu, the Guardian's west Africa correspondent.
Addo's address primarily set out to defend the government's easing the lockdown three weeks ago, amid fierce criticism.
Since Ghana's measures were eased, cases of Covid-19 in the country have accelerated, doubling in the last week to 4,263. Twenty-two people have died and 378 have recovered from the virus.
On Saturday there were almost a thousand new cases announced by the government. The rate of infections has fuelled worries that the relaxed measures have caused the virus to spread further. In what is still technically an election year, criticism of the government has grown more intense.
The former president John Mahama, a candidate against Akufo-Addo's re-election, tweeted on Saturday: "From 3,091 to 4,012 #COVID19 cases within 24 hours. Government is certainly failing the people of Ghana."
In the president's address the following day, he indirectly responded: "I know some political actors would want you to believe that the new numbers represent a failure on our part, do not begrudge them."
The government insists that its fairly robust testing and tracing measures allow it to track the spread with precision and focus restrictions on specific locations rather than entire cities. So far 160,000 tests have been administered in Ghana, one of the highest totals in Africa.
Addo said a sharp rise in cases was partly due to a backlog of tests, which had now been cleared. Many recently confirmed cases were not new infections. Clusters of cases were being tightly traced, such as 533 infections at a fish processing factory which he said were all linked to one individual.
Health officials in Ghana feel the larger case numbers, among the highest in Africa, are largely a result of its more comprehensive and widespread testing campaign relative to other countries. Yet each new rise in cases casts the lockdown in a more critical light.