M

ore than a quarter of the workforce at a Tyson Foods poultry facility in North Carolina have tested positive for the coronavirus in the latest wave of the disease to hit the food giant as it carries out widespread testing.
Tyson said that out of the 2,244 staff and contractors at its plant in Wilkesboro, some 570 came back with positive results for COVID-19 following tests between May 6 and May 9. The company said most cases were asymptomatic.
The plant had been closed earlier in May for cleaning and sanitizing to mitigate against the disease after officials in Wilkes Country said most of the coronavirus cases in the county were linked to the plant, the News and Observer reported.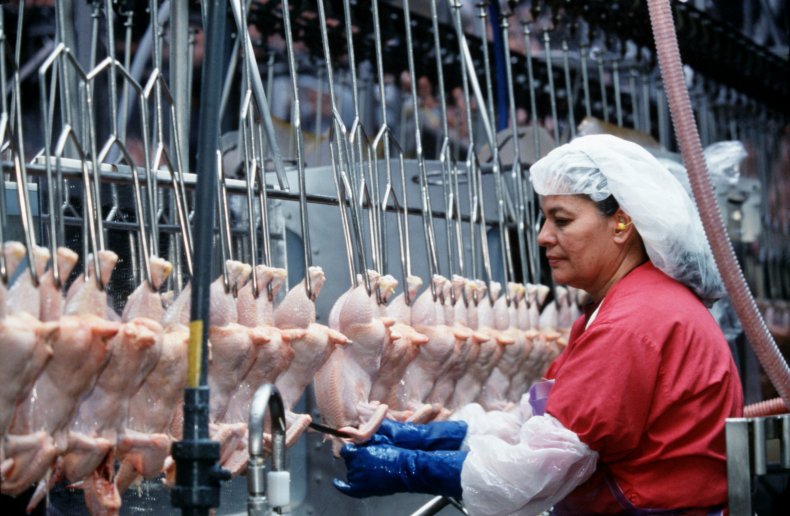 Employees of Tyson Foods process chicken in Springdale, Arkansas in this illustrative image. The company says a quarter of its workers at its North Carolina facility have tested positive for the coronavirus.
GREG SMITH/GETTY IMAGES
Since the end of the temporary closure, the company said in a statement that production would "ramp up" and that safety measures such as temperature screenings, face masks and barriers at work stations had been implemented.
Tom Brower, senior vice president of health and safety for Tyson Foods, said: "We are working closely with local health departments to protect our team members and their families, and to help manage the spread of the virus in our communities.
"We are using the most up-to-date data and resources to support our team members, and we are committed to ensuring they feel safe and secure when they come to work," Brower said, according to the News and Observer.
There are widespread concerns about how meat production facilities around the U.S. have become coronavirus hotspots. Earlier in the month, over half, or 700 members of the workforce at a Tyson meat plant in Perry, Iowa, tested positive for the virus, the Kansas City Star reported.
Meanwhile this week, a forklift operator at a Tyson plant in Sherman, Texas, died of the coronavirus after he had been complaining about feeling sick and a shortness of breath, KXII reported.
Some 270 other people at the facility have tested positive for the disease, according to the network.
With other companies such as Smithfield Foods and JBS

also taking some meat processing facilities offline

because of the disease, Tyson chairman John Tyson warned of meat shortages, writing in a New York Times spread that "millions of pounds of meat will disappear from the supply chain."
Newsweek has contacted Tyson Foods for comment.
The infographic below, provided by

Statista

, shows the states with the most confirmed COVID-19 cases across the U.S. as of May 20.