Federal law enforcement officials announced on Tuesday that no federal crimes were committed in the case of NASCAR driver Bubba Wallace's team finding what they believed was a "noose" in his garage stall over the weekend.
In a statement, the FBI said:
On Monday, fifteen FBI special agents conducted numerous interviews regarding the situation at Talladega Superspeedway. After a thorough review of the facts and evidence surrounding this event, we have concluded that no federal crime was committed.

The FBI learned that garage number 4, where the noose was found, was assigned to Bubba Wallace last week. The investigation also revealed evidence, including authentic video confirmed by NASCAR, that the noose found in garage number 4 was in that garage as early as October 2019. Although the noose is now known to have been in garage number 4 in 2019, nobody could have known Mr. Wallace would be assigned to garage number 4 last week.

The decision not to pursue federal charges is proper after reviewing all available facts and all applicable federal laws. We offer our thanks to NASCAR, Mr. Wallace, and everyone who cooperated with this investigation.
"The FBI has completed its investigation at Talladega Superspeedway and determined that Bubba Wallace was not the target of a hate crime," NASCAR said in a statement. "The FBI report concludes, and photographic evidence confirms, that the garage door pull rope fashioned like a noose had been positioned there since as early as last fall. This was obviously well before the 43 team's arrival and garage assignment. We appreciate the FBl's quick and thorough investigation and are thankful to learn that this was not an intentional, racist act against Bubba. We remain steadfast in our commitment to providing a welcoming and inclusive environment for all who love racing."
On Sunday, Wallace released a statement about the now-debunked story, writing: "Today's despicable act of racism and hatred leaves me incredibly saddened and serves as a painful reminder of how much further we have to go as a society and how persistent we must be in the fight against racism."
"Over the last several weeks, I have been overwhelmed by the support from people across the NASCAR industry including other drivers and team members in the garage," Wallace continued. "Together, our sport has made a commitment to driving real change and championing a community that is accepting and welcoming of everyone. Nothing is more important and we will not be deterred by the actions of those who seek to spread hate."
Wallace concluded, "As my mother told me today, 'They are just trying to scare you.' This will not break me. I will not give in nor will I back down."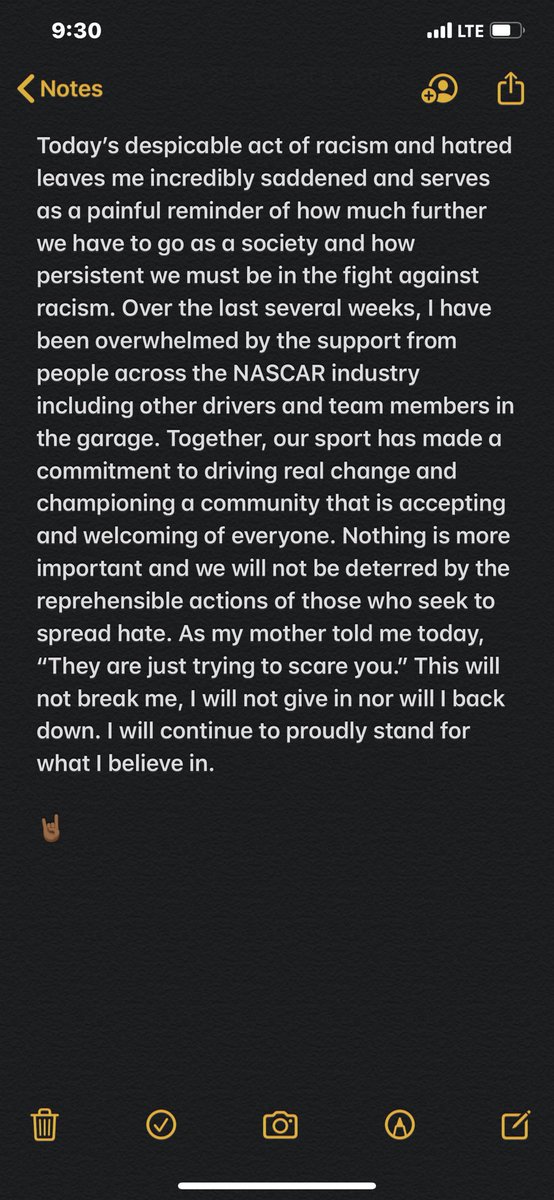 Popular sports host Clay Travis responded to the whole ordeal by writing on Twitter: "This NASCAR mess should be yet another wake up call for the far left wing sports media, which is so desperate for awful things to happen they stop & ask no questions any time there's a report of bad things happening. But, sadly, it won't be. They'll keep doing what they do."