Australian federal police was asked to investigate and has 'referred aspects of this matter' to Ibac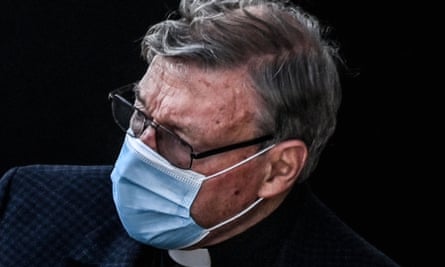 Australian Cardinal George Pell gets into a car at Rome's Fiumicino airport on September 30.

Photograph: Alberto Pizzoli/AFP/Getty Images
The Australian federal police has referred information regarding alleged payments from the Vatican linked to George Pell's court matters to Victoria's anti-corruption body.
Australia's financial crimes regulator, Austrac, revealed on Tuesday it had provided information to police after it was asked to examine allegations that €700,000 (A$1.1m) had been paid from Vatican funds to a witness in the Pell case.
The Australian federal police confirmed on Wednesday it had received information from Austrac which it was reviewing and had "concurrently referred aspects of the matter" to Victoria's Independent Broad-based Anti-corruption Commission (Ibac).
Italian newspapers have claimed that Cardinal Giovanni Becciu, a rival of Pell, was suspected of paying an Australian witness in the child sexual abuse case.
Becciu has denied making any such payments and the lawyer who represented the man who accused Pell of sexually assaulting him in the 1990s, Vivian Waller, has similarly denied any connection to the claims."My client denies any knowledge or receipt of any payments," Waller said in early October.
At a Senate estimates hearing on Tuesday, the Liberal senator, Concetta Fierravanti-Wells, revealed she had written to Austrac about the alleged payments.
Nicole Rose, the chief executive of Austrac, replied: "Yes I can confirm Austrac has looked into the matter and we've provided information to the AFP and to Victoria police."
An AFP spokeswoman told Guardian Australia on Wednesday it could "confirm it received information from Austrac on this matter".
"This is part of a routine exchange of financial intelligence between Austrac and the AFP," she said. "The AFP is undertaking a review of the relevant information. The AFP has concurrently referred aspects of this matter to the Victorian Independent Broad-based Anti-corruption Commission."
A spokesperson for Ibac on Wednesday evening said: "For legal and operational reasons we are unable to comment on this matter."
Pell's barrister, Robert Richter QC, earlier this month said it was incumbent on Australian and international authorities to investigate the allegations.
"They are concerning allegations and require thorough investigation of the money trail, wherever that may be," Richter told Guardian Australia.
Becciu and Pell had been at odds over the Australian's efforts to overhaul the management of Vatican finances.
La Repubblica and Corriere della Sera newspapers reported that Pell's reformist agenda threatened to expose alleged corruption committed by Becciu when he distributed millions of dollars in donations between 2011 and 2018.
"I categorically deny interfering in any way in the trial of Cardinal Pell," Becciu has said.
The Italian cardinal resigned last month amid the corruption scandal, saying he had been asked to step aside.
Pell was charged with multiple sexual offences in June 2017. A Melbourne jury convicted Pell of five charges in December 2018 after an earlier jury was unable to reach a verdict.
Victoria's court of appeal upheld the convictions last year before Australia's high court overturned the convictions in April.
Since you're here ...
… joining us from India, we have a small favour to ask. You've read
in the last year. And you're not alone; millions are flocking to the Guardian for open, independent, quality news every day, and readers in 180 countries around the world now support us financially.
We believe everyone deserves access to information that's grounded in science and truth, and analysis rooted in authority and integrity. That's why we made a different choice: to keep our reporting open for all readers, regardless of where they live or what they can afford to pay. This means more people can be better informed, and inspired to take meaningful action.
In these perilous times, an independent, truth-seeking global news organisation like the Guardian is essential. We have no shareholders or billionaire owner, meaning our journalism is free from commercial and political bias – this makes us different to many others. We can investigate and report without fear or favour.
Amid the various crises of 2020, we recognise the climate crisis as the defining emergency of our lifetimes. We're determined to uphold our reputation for producing powerful, high-impact environmental journalism that reflects the urgency of the crisis. And when it's never been more pertinent, our independence means we can scrutinise, challenge and expose those in power on their climate policies and decisions.
A year ago we also published a climate pledge, outlining the steps we promised to take in service of the escalating emergency. And we've made good institutional progress since: we no longer accept advertising from fossil fuel companies, making us the first global news organisation to do so, and we're on course to achieve net zero emissions by 2030.
If there were ever a time to join us, it is now. Your funding powers our journalism, it protects our independence, and ensures we can remain open for all. You can support us through these challenging economic times and enable real-world impact.
Every contribution, however big or small, makes a real difference for our future.