Museum in Nantes pulls show after intervention by Beijing, which comes as Communist party hardens discrimination against ethnic Mongols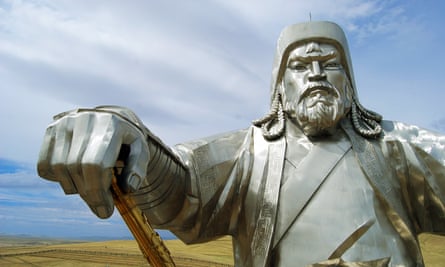 Genghis Khan statue in Mongolia.

Photograph: G Adventures, Inc
A French museum has postponed an exhibit about the Mongol emperor Genghis Khan citing interference by the Chinese government, which it accuses of trying to rewrite history.
The Château des ducs de Bretagne history museum in the western city of Nantes said it was putting the show about the fearsome 13th century leader on hold for over three years.
The museum's director, Bertrand Guillet, said: "We made the decision to stop this production in the name of the human, scientific and ethical values that we defend."
It said the Chinese authorities demanded that certain words, including "Genghis Khan," "Empire" and "Mongol" be taken out of the show. Subsequently they asked for power over exhibition brochures, legends and maps.
The spat comes as the Chinese government has hardened its discrimination against ethnic Mongols, many of whom live in the northern province of Inner Mongolia.
The exhibit was planned in collaboration with the Inner Mongolia Museum in Hohhot, China. But tensions arose, the Nantes museum said, when the Chinese Bureau of Cultural Heritage pressured the museum for changes to the original plan, "including notably elements of biased rewriting of Mongol culture in favour of a new national narrative".
The museum branded it "censorship" and said it underlined a "hardening … of the position of the Chinese government against the Mongolian minority".
The Chinese consulate in Paris did not immediately return calls for comment.
Since you're here ...
… joining us from India, we have a small favour to ask. You've read
in the last year. And you're not alone; millions are flocking to the Guardian for open, independent, quality news every day, and readers in 180 countries around the world now support us financially.
We believe everyone deserves access to information that's grounded in science and truth, and analysis rooted in authority and integrity. That's why we made a different choice: to keep our reporting open for all readers, regardless of where they live or what they can afford to pay. This means more people can be better informed, and inspired to take meaningful action.
In these perilous times, an independent, truth-seeking global news organisation like the Guardian is essential. We have no shareholders or billionaire owner, meaning our journalism is free from commercial and political bias – this makes us different to many others. We can investigate and report without fear or favour.
Amid the various crises of 2020, we recognise the climate crisis as the defining emergency of our lifetimes. We're determined to uphold our reputation for producing powerful, high-impact environmental journalism that reflects the urgency of the crisis. And when it's never been more pertinent, our independence means we can scrutinise, challenge and expose those in power on their climate policies and decisions.
A year ago we also published a climate pledge, outlining the steps we promised to take in service of the escalating emergency. And we've made good institutional progress since: we no longer accept advertising from fossil fuel companies, making us the first global news organisation to do so, and we're on course to achieve net zero emissions by 2030.
If there were ever a time to join us, it is now. Your funding powers our journalism, it protects our independence, and ensures we can remain open for all. You can support us through these challenging economic times and enable real-world impact.
Every contribution, however big or small, makes a real difference for our future