Fierce clashes with police leave at least 11 wounded

Biggest demonstrations in two decades follow impeachment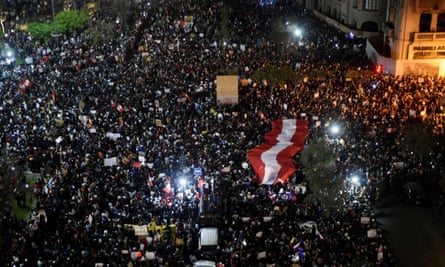 Demonstrators hold a protest against the new government of the interim president, Manuel Merino, at the San Martin square in Lima on Thursday.

Photograph: Ernesto Benavides/AFP/Getty Images
Fierce clashes in Peru between police and protesters have wounded at least 11 people, doctors and rights groups said on Friday, as thousands of Peruvians took to the streets to protest against the ousting of President Martín Vizcarra.
The clashes, and other more peaceful protests in the capital Lima and other cities, are piling pressure on a fragmented congress and the new government of Manuel Merino. Thursday night's rallies were among the largest in two decades in Peru.
Vizcarra, a politically unaffiliated centrist who is popular with voters, was forced out of power on Monday in an impeachment trial over unproven allegations he received bribes, accusations he denies.
Merino, a member of the center-right Popular Action party who had been congress head, swore in his new cabinet on Thursday and called for calm.
Peru's national human rights coordinator said there were journalists among the 11 wounded on Thursday. A Lima hospital said at least two people had been injured by rubber bullets.
Riot police were seen using rubber bullets and teargas to disperse large groups of protesters on Thursday night in Lima.
"All of Peru is fired up, we're all very angry," said José Vega, a protester in Lima, where some carried banners comparing Merino to the coronavirus pandemic and saying he did not represent them.
"They treat us poorly. We've only come to protest against injustice … We are all feeling pain. So, I'm saying to everyone let's not give up."
Vizcarra oversaw an anti-graft campaign that led to frequent clashes with congress in a country that has a history of political upheaval and corruption.
The crisis precipitated by his departure has rattled the world's No 2 copper producer and seen its sol currency hit 18-year lows.
International human rights groups have expressed concern about use of force by police against protesters and the Organization of American States has called for Peru's constitutional court to give clarity to the situation.
"We're in the streets spontaneously and peacefully defending Peruvian democracy from an abuse by congress," said Gino Costa, a lawmaker from the progressive Morado party who joined Thursday's protests.
Since you're here ...
... joining us from India, we have a small favour to ask. Millions are flocking to the Guardian for open, independent, quality news every day, and readers in 180 countries around the world now support us financially.
We believe everyone deserves access to information that's grounded in science and truth, and analysis rooted in authority and integrity. That's why we made a different choice: to keep our reporting open for all readers, regardless of where they live or what they can afford to pay. This means more people can be better informed, united, and inspired to take meaningful action.
In these perilous times, an independent, truth-seeking global news organisation like the Guardian is essential. We have no shareholders or billionaire owner, meaning our journalism is free from commercial and political influence – this makes us different. When it's never been more pertinent, our independence allows us to fearlessly investigate, challenge and expose those in power.
Amid the various intersecting crises of 2020 – from Covid-19 to police brutality – the Guardian has not, and will never, sideline the climate emergency. We are determined to uphold our reputation for producing urgent, powerful, high-impact reporting on the environment that's read by around the world.
We've made institutional progress too, working hard to live up to the climate promises we made in 2019. We no longer take advertising from fossil fuel companies, and we're on course to achieve net zero emissions by 2030.
If there were ever a time to join us, it is now. Your funding powers our journalism, it protects our independence, and ensures we can remain open for all. You can support us through these challenging economic times and enable real-world impact.
Every contribution, however big or small, makes a real difference for our future.