Helen Viola Jackson was just 17 when she married James Bolin, a 93-year-old veteran, in Missouri in 1936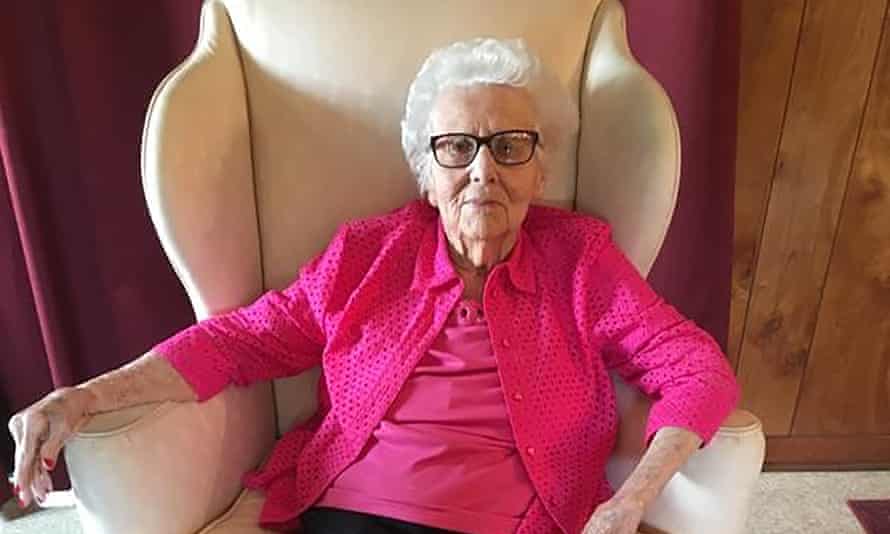 Helen Viola Jackson kept her marriage secret until the final years of her life, afraid of the scorn of 'wagging tongues'.

Photograph: Nicholas Inman/AP
Helen Viola Jackson's 1936 marriage to James Bolin was unusual to say the least: he was 93 and in declining health, and she was a 17-year-old schoolgirl.
Bolin was also a civil war veteran who fought for the Union in the border state of Missouri. Jackson was almost certainly the last remaining widow of a civil war soldier when she died on 16 December at a nursing home in Marshfield, Missouri. She was 101.
Several civil war heritage organizations have recognized Jackson's quiet role in history, one that she hid for all but the final three years of her life, said Nicholas Inman, her pastor and longtime friend. Yet in those final years, Inman said, Jackson embraced the recognition that included a spot on the Missouri Walk of Fame and countless cards and letters from well-wishers.
"It was sort of a healing process for Helen: that something she thought would be kind of a scarlet letter would be celebrated in her later years," Inman said.
Jackson grew up one of 10 children in the tiny south-western Missouri town of Niangua, near Marshfield. Bolin, a widower who had served as a private in the 14th Missouri Cavalry during the civil war seven decades earlier, lived nearby.
Jackson's father volunteered his teenage daughter to stop by Bolin's home each day to provide care and help with chores. To pay back her kindness, Bolin offered to marry Jackson, which would allow her to receive his soldier's pension after his death, a compelling offer in the context of the Great Depression.
Jackson agreed in large part because "she felt her daily care was prolonging his life," Inman said.
They wed on 4 September 1936, at his home. Throughout their three years of marriage there was no intimacy and she never lived with him. She never told her parents, her siblings or anyone else about the wedding. She never remarried, spending decades "harboring this secret that had to be eating her alive," Inman said.
After Bolin's death in 1939, she did not seek his pension.
She also realized the stigma and potential scandal of a teenager wedding a man in his 90s, regardless of her reason. In an oral history recording in 2018, Jackson said she never spoke of the wedding to protect Bolin's reputation as well as her own.
"I had great respect for Mr Bolin, and I did not want him to be hurt by the scorn of wagging tongues," she said.
Inman and Jackson were longtime friends. She was a charter member of the Methodist church where he serves as pastor. One day in December 2017, she told Inman about her secret marriage to a much older man. She mentioned in passing that he fought in the civil war.
"I said, 'What? Back up about that. What do you mean he was in the civil war?"' Inman said.
Inman checked into her story and found that everything she told him was "spot on".
Officials at Wilson's Creek National Battlefield sent him copies of Bolin's service information. She identified where he was buried, in Niangua.
She also kept a Bible that he gave her, in which he wrote about their marriage. Those written words were good enough for the Sons of Union Veterans of the Civil War and other heritage organizations to recognize Jackson's place in history.
After a lifetime of avoiding her past, Jackson embraced it in her final years, Inman said. She spoke to schoolchildren and had a Facebook page dedicated to her. She enjoyed getting cards and letters.
She also found new peace. A stoic nature that kept her from shedding tears at her own siblings' funerals seemed to evaporate.
After Bolin's relatives found out about Jackson's role in his life, they went to the nursing home and presented her with a framed photo of him.
"She broke down and cried," Inman recalled. "She kept touching the frame and said, 'This is the only man who ever loved me."'

It's 2021 ...
… and it's got to be better, right? You read
in 2020, and we can only hope that the new year brings brighter news. The Covid-19 vaccines, the Joe Biden presidency, the last-minute Brexit deal: though major challenges persist, there is cause for optimism.
At the Guardian, we believe everyone deserves access to information that's grounded in science and truth. That's why we made a different choice: to keep our reporting open for all readers, regardless of where they live or what they can afford to pay. This means more people can be better informed, united, and inspired to take meaningful action. Indeed, millions of people come to us each day for open, independent, quality news.
In these perilous times, a truth-seeking global news organisation like the Guardian is essential. We have no shareholders or billionaire owner, meaning our journalism is free from commercial and political influence – this makes us different. At a time when challenging authority has never been more important, our independence allows us fearlessly to investigate, scrutinise and expose those in power.
In a year of intersecting crises in 2020, we did just that, with revealing journalism that had real-world impact on the inept handling of the Covid-19 crisis, the Black Lives Matter protests, and the tumultuous US election.
We have enhanced our reputation for urgent, powerful reporting on the climate emergency, and moved to practice what we preach, rejecting advertising from fossil fuel companies, divesting from oil and gas companies and setting a course to achieve net zero emissions by 2030.
If there were ever a time to join us, it is now. Readers in 180 countries, including India, now support us financially. This funding powers our journalism, it protects our independence, and ensures we can remain open for all.
You can support us through these challenging economic times and enable real-world impact. Every contribution, however big or small, makes a real difference for our future