Well-preserved iron, bronze and tin carriage discovery is 'without precedent in Italy'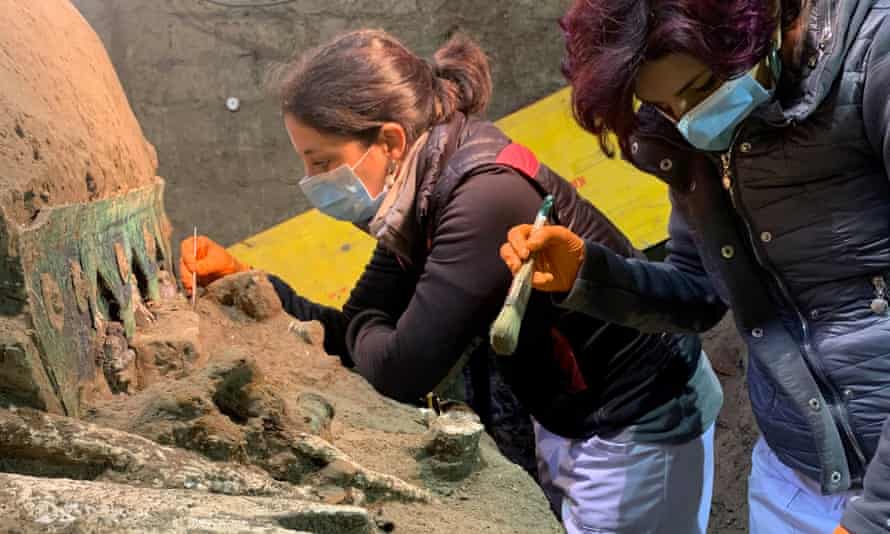 Archaeologists have unearthed a unique Roman ceremonial carriage from a villa just outside Pompeii, the city buried in a volcanic eruption in 79 AD.
The almost perfectly preserved four-wheeled carriage, made of iron, bronze and tin, was found near the stables of an ancient villa at Civita Giuliana, about 700 metres north of the walls of ancient Pompeii.
Massimo Osanna, the outgoing director of the Pompeii archaeological site, said the carriage was the first of its kind discovered in the area, which had so far yielded functional vehicles used for transport and work, but not for ceremonies.
"This is an extraordinary discovery that advances our understanding of the ancient world," Osanna said, adding that the carriage would have accompanied festive moments for the community, such as parades and processions.
The culture ministry called it a unique find, without precedent in Italy.
Pompeii, 14 miles south-east of Naples, was home to about 13,000 people when it was buried under ash, pumice pebbles and dust as it endured the force of an eruption equivalent to many atomic bombs.
About two-thirds of the 66-hectare (165-acre) ancient town has been uncovered. The ruins were not discovered until the 16th century and organised excavations began in about 1750.
"Pompeii continues to amaze us with its discoveries and it will do so for many years, with 20 hectares still to be dug up," said Italy's culture minister, Dario Franceschini.
A rare snapshot of Greco-Roman life, Pompeii is one of Italy's most popular attractions and a Unesco world heritage site.
... as you join us today from India, we have a small favour to ask. You've read
in the last year. And you're not alone; through these turbulent and challenging times, millions rely on the Guardian for independent journalism that stands for truth and integrity. Readers chose to support us financially more than 1.5 million times in 2020, joining existing supporters in 180 countries.
For 2021, we commit to another year of high-impact reporting that can counter misinformation and offer an authoritative, trustworthy source of news for everyone. With no shareholders or billionaire owner, we set our own agenda and provide truth-seeking journalism that's free from commercial and political influence. When it's never mattered more, we can investigate and challenge without fear or favour.
Unlike many others, we have maintained our choice: to keep Guardian journalism open for all readers, regardless of where they live or what they can afford to pay. We do this because we believe in information equality, where everyone deserves to read accurate news and thoughtful analysis. Greater numbers of people are staying well-informed on world events, and being inspired to take meaningful action.
In the last year alone, we offered readers a comprehensive, international perspective on critical events – from the Black Lives Matter protests, to the US presidential election, Brexit, and the ongoing pandemic. We enhanced our reputation for urgent, powerful reporting on the climate emergency, and made the decision to reject advertising from fossil fuel companies, divest from the oil and gas industries, and set a course to achieve net zero emissions by 2030.
If there were ever a time to join us, it is now. You can power Guardian journalism and help sustain our future.