At times, the Biden administration has presented confusing and contradictory mask-wearing habits, which has sparked questions about President Joe Biden's COVID-19 vaccine messaging and recent CDC guidelines. In the latest inconsistent mask gesture, Vice President Kamala Harris determined that she needed a face mask to kiss her own husband while outside after they had both been vaccinated for coronavirus.
Harris and husband Doug Emhoff traveled to Joint Base Andrews, where she was taking a plane to Providence, Rhode Island, and he was flying to Allentown, Pennsylvania. Before Harris departed, the fully vaccinated couple kept their face masks on when they gave each other a goodbye kiss while outside on the tarmac.
Harris and U.S. second gentleman Doug Emhoff both received a second round of the Moderna coronavirus vaccine on Jan. 26.

Kamala really did just kiss her husband with a mask on 🥴🥴 https://t.co/YvP1FcKMmO

— Sara Gonzales (@Sara Gonzales)1620236107.0
The masked kiss occurred a week after the Centers for Disease Control and Prevention issued new guidelines on mask-wearing outside: "Fully vaccinated people no longer need to wear a mask outdoors, except in certain crowded settings and venues."

CDC Director Dr. Rochelle Walensky said, "If you are fully vaccinated and want to attend a small outdoor gathering with people who are vaccinated and unvaccinated, or dine at an outdoor restaurant with friends from multiple households, the science shows if you are vaccinated, you can do so safely unmasked."
President Joe Biden bucked the COVID-19 recommendations by the health agency. Biden said last week that wearing a mask, including people who are vaccinated and outdoors, is "a patriotic responsibility for God's sake."

Biden has presented conflicting messaging on face masks to the American people in recent weeks.
During a photo op with former President Jimmy Carter and former first lady Rosalynn Carter this week, Biden and first lady Jill Biden are both maskless while nestled close to the Carters, who are both in their 90s.
We're pleased to share this wonderful photo from the @POTUS and @FLOTUS visit to see the Carters in Plains, Ga.!… https://t.co/oNUxv9P7TW

— The Carter Center (@The Carter Center)1620093890.0
On Monday, Biden pulled down his mask to talk to a young boy outside York High School in Yorktown, Virginia.

.@POTUS stopped his motorcade to greet supporters and a little boy wearing a Navy hat outside York High School, in… https://t.co/bKPTqkNPLM

— Doug Mills (@Doug Mills)1620055863.0
Biden, who received a second dose of the Pfizer/BioNTech COVID-19 vaccine on Jan. 11, wore a face mask during a climate summit with world leaders last week that was held remotely on video conferencing app Zoom.
When asked why Biden was the only world leader to wear a face mask during the video call, White House press secretary Jen Psaki replied, "Because he is sending a message to the world that he is putting in place precautions and continuing to do that as leader of the United States."
Pres. Biden masks up for a video call to discuss climate change with world leaders He appears to be the only one… https://t.co/7jCNXHtVe2

— Breaking911 (@Breaking911)1619181115.0
On April 30, Biden wouldn't even leave the podium without finding his mask; today he's mask-less and fist-bumping Amtrak officials
Yesterday, Biden wouldn't even leave the podium without finding his mask, today he's mask-less and fist bumping Amt… https://t.co/eX3D4ZMA5P

— Charlie Spiering (@Charlie Spiering)1619809983.0
Last month, Biden wore a mask while visiting Arlington National Cemetery, despite not a single person remotely in his vicinity.
He's wearing a mask and is by himself in Arlington while walking the grave sites despite having been vaccinated for… https://t.co/IfPfjGg4p9

— Curtis Houck (@Curtis Houck)1618427852.0
On Inauguration Day, hours after signing an executive order mandating that face masks must be worn on all federal property, Biden and his family were without masks posing for photos at the Lincoln Memorial, which is on federal land.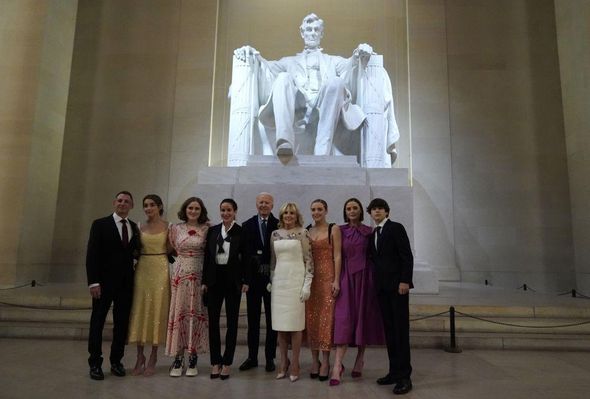 JOSHUA ROBERTS/POOL/AFP via Getty Images
Biden told Americans to mask up for the first 100 days of his administration.

"The first day I'm inaugurated to say I'm going to ask the public for 100 days to mask," Biden proclaimed in December. "Just 100 days to mask, not forever. 100 days."
Thursday marks the 106th day of the Biden administration.