A California public school teacher has been placed on leave after a video showed her wearing what appears to be paper "feathers" on her head and imitating Native American chanting and dancing in front of her class.
Here's a partial clip:
What are the details?
During her rather bizarre routine the teacher chants the phrase "soh-cah-toa," which is known in math circles as a "helpful mnemonic for remembering the definitions of the trigonometric functions sine, cosine, and tangent."
However, as the teacher's performance wears on, it appears the "soh-cah-toa" phrase is being used to resemble something Native Americans might chant — and one student is seen with a buried head on a desk amid the whole thing: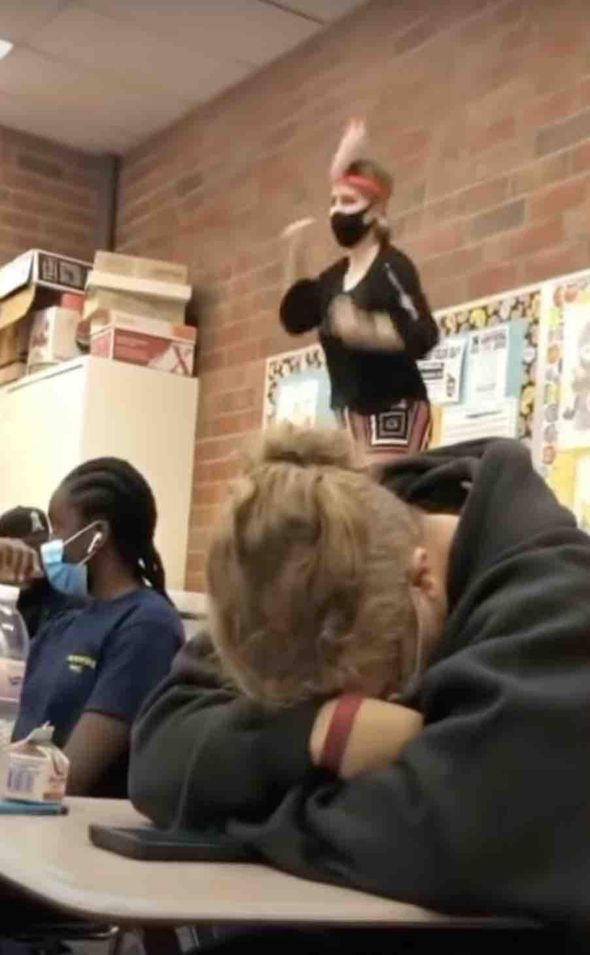 Image source: YouTube screenshot
The teacher also pulls out a rock and calls it a "god" — and even "prays" to it in front of the class.
Instagram user Akalei Brown shared a series of clips showing the teacher in action and wrote in the caption that a Native American student recorded the video in a math class at John W. North High School in Riverside.
According to the International Business Times, a TikTok user identified the teacher as Candice Reed. A poster of a red apple with the name "Reed" in the middle of it is seen on the clip, along with a document above it with the name "Candice Reed" prominently in the
Image source: Instagram video screenshot via @corn_maiden_designs
In addition, a social media user who said she's a former student at the high school posted images she said were from its 2012 yearbook which show a teacher wearing "feathers" along with the following caption: "Dancing from one end of the room to the other, math teacher Candice Reed wears an Indian headdress to emphasize geometry basics. 'I find that if I tell them a story using math along the way, it's like a memory device! It just may stick with them forever.'" (Click on the "Kim Kirkpatrick" post below to view the images and enlarge them.)
As of Thursday morning, Reed was still listed in the district's directory.
What did the school district have to say?
The Riverside Unified School District posted a statement Thursday on its website: "A recording of one of our teachers has been widely circulated on social media. These behaviors are completely unacceptable and an offensive depiction of the vast and expansive Native American cultures and practices. Her actions do not represent the values of our district. The teacher has been placed on leave while the District conducts an investigation."
The statement also reads that the district "values diversity, equity and inclusion, and does not condone behavior against these values. We are deeply committed to implementing inclusive practices and policies that honor the rich diversity of our district and the greater region. We will be working with our students, families, staff and community to regain your trust."
Here's a longer version of the teacher in action: