A carjacker was caught on surveillance video pointing a gun at a 1-year-old girl, her mother, and another person on a Chicago street last week — and soon the victims were seen running to safety after their vehicle was taken.
What are the details?
Video shows two men driving the wrong way down a street, but they soon back up and stop near the victims at their parked car, WBBM-TV reported.
Chicago police told the station the men were in possession of guns. And sure enough, one of them appeared to exit their car and point a gun at the baby girl, her mother, and the third victim, all of whom were just feet away by an open backseat door.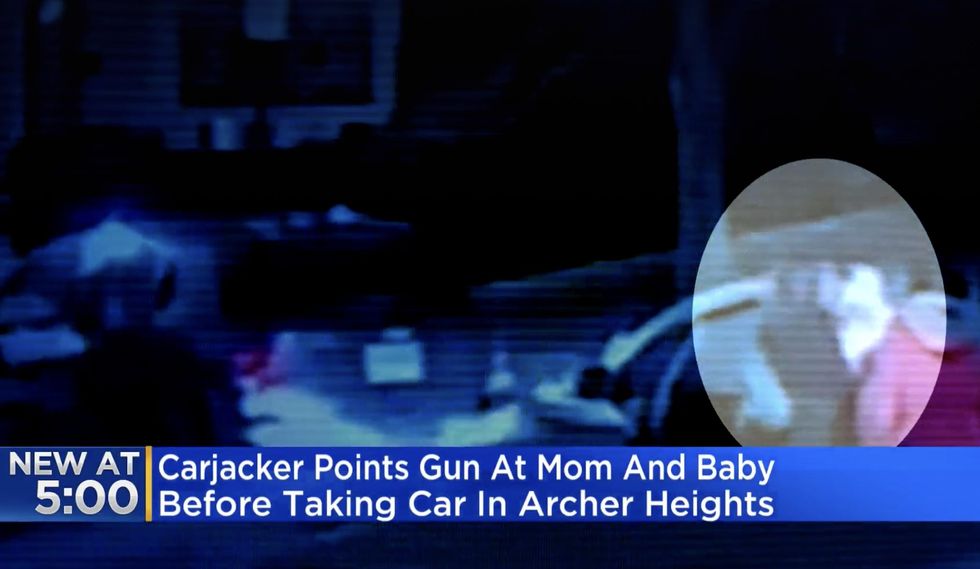 WBBM said the men demanded the keys, and video shows one man carjack the Nissan.
The clip at first shows the third victim, wearing a dark jacket, holding the infant. Afterward the mother — dressed in a red jacket — was holding her baby while running to safety, along with the third victim trailing just behind them, the station said. The initial portion of the surveillance video shows a date and time of Jan. 17 just before 7:30 p.m.
'It's just scary'
Turns out the victims ran into Mirna Rivera's grocery store.
"They said they just decided to run into the store," Rivera told the station, adding that the baby was "crying" at that point.
Image source: WBBM-TV video screenshot
"I feel horrible for them because their child had to go through that," she noted to WBBM, adding that there have been "a lot of incidents. It's just scary."
The video camera points to Kolin Avenue right off of Archer Avenue, the station said. That intersection is in the Archer Heights neighborhood on the southwest side of the city.
WBBM said it's a very busy residential area where criminals are targeting people who appear to be alone.
Rivera came forward with the surveillance video just days after police issued an alert regarding four armed robberies this month, the station said.
All the robberies involved two men on the southwest side near Midway Airport, WBBM said, adding that police said they have no one in custody for the carjacking involving the mom and her baby daughter or in connection with the other armed robberies.
For Rivera, the incident hit close to home, the station said, as she's also a mother: "I think about my daughter ... I have children."